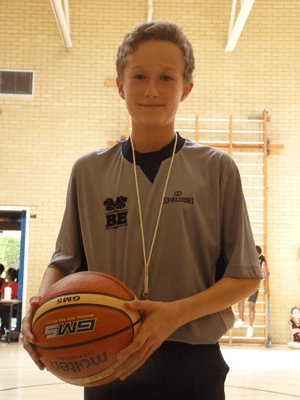 At the age of just 14, Matthew Tattam is the youngest Basketball England referee and table official – and he has his sights set on a Guinness World Record.
Matthew juggles his refereeing and officiating duties with playing in the Buckinghamshire Basketball Leagues with Aylesbury Dux.
And combining the three different roles is something that the youngster enjoys doing with no real preference despite going unbeaten with his team this past season.
"I love playing, refereeing and officiating," he said. "I can't decide which I prefer – I'm very lucky that I get to do all three.
"I joined the Aylesbury Dux when I was eight years old and I've been playing ever since. I started in the under-12's and now the under-14's.
"This season we finished top of the league, won the playoffs and were undefeated all season."
Matthew first joined the junior club on a recommendation from a school friend before taking advantage of a Level 1 refereeing and officiating course in his local area.
He went on to complete the Level 2 course as he began to develop a better understanding of the game and gain his first experiences in charge on the court.
"I was very young but eager to do it, so I decided to try Level 1 and passed," he explained.
"Later in the year, a Level 2 course was run for both (refereeing and officiating) and they were more in-depth with exams and a practical assessment.
"It was a lot more interesting because I got to learn the rest of the rules and regulation and got to experience refereeing through the scrimmage game we played."
Matthew praised his mentor Paul Perkins for his support throughout the process as he makes his way up the ranks.
"The courses were run by Paul Perkins and he supported me through the whole season. He gave me the opportunity to get experience in different leagues and competitions and he's been a fantastic mentor.
"Adrian Hoskins gave me the opportunity to referee and officiate games in the Bucks Basketball league and Fran Edwards through the Aylesbury Dux Senior team helped me with officiating in the Herts Premier League."
Upon learning that he is the youngest Basketball England Level 2 referee, Matthew has his sights on a bigger accolade to get his name in the record books before continuing his rise.
"There are Guinness world records for the youngest referee in other sports such as football and rugby union, but not for basketball. I'm going to contact Guinness World Records to see if I can set a world record.
"I would love to continue playing, for fun, for as long as I can. In a few years time when I gather more experience, I would like to do my level 3 and carry on up the levels."